Welcome to Swift for Arduino (TM) !
A world first!
The Swift for Arduino IDE for macOS allows you to write simple programs using a light-weight version of Swift, suitable for microcontrollers.
Start having fun with Swift on Arduino and Microcontrollers today!
IDE unlimited license $40.
Free trial option available, see comparison page for more options.
---
---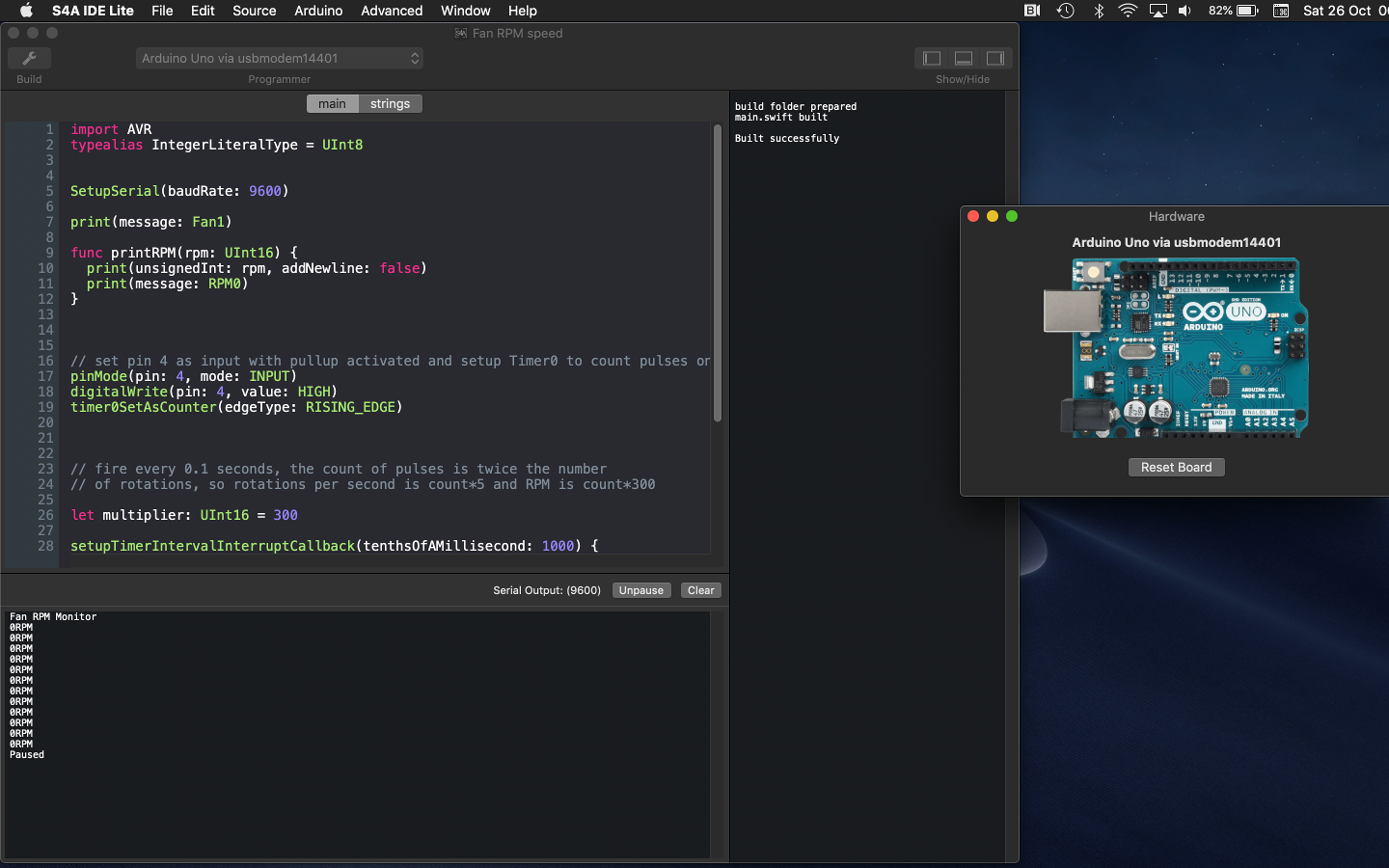 The S4A IDE showing a build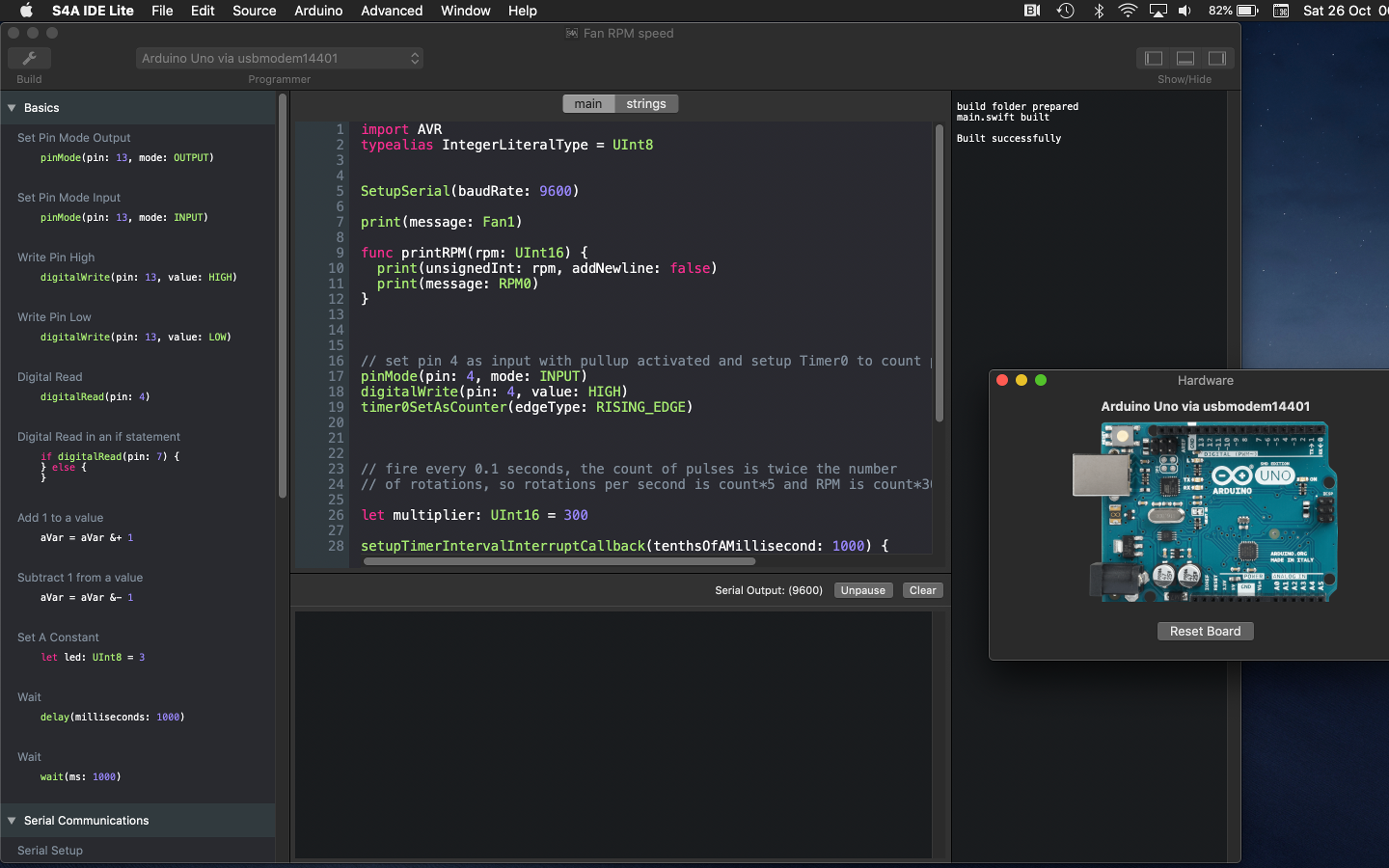 Drag and drop snippets for fast and fun coding!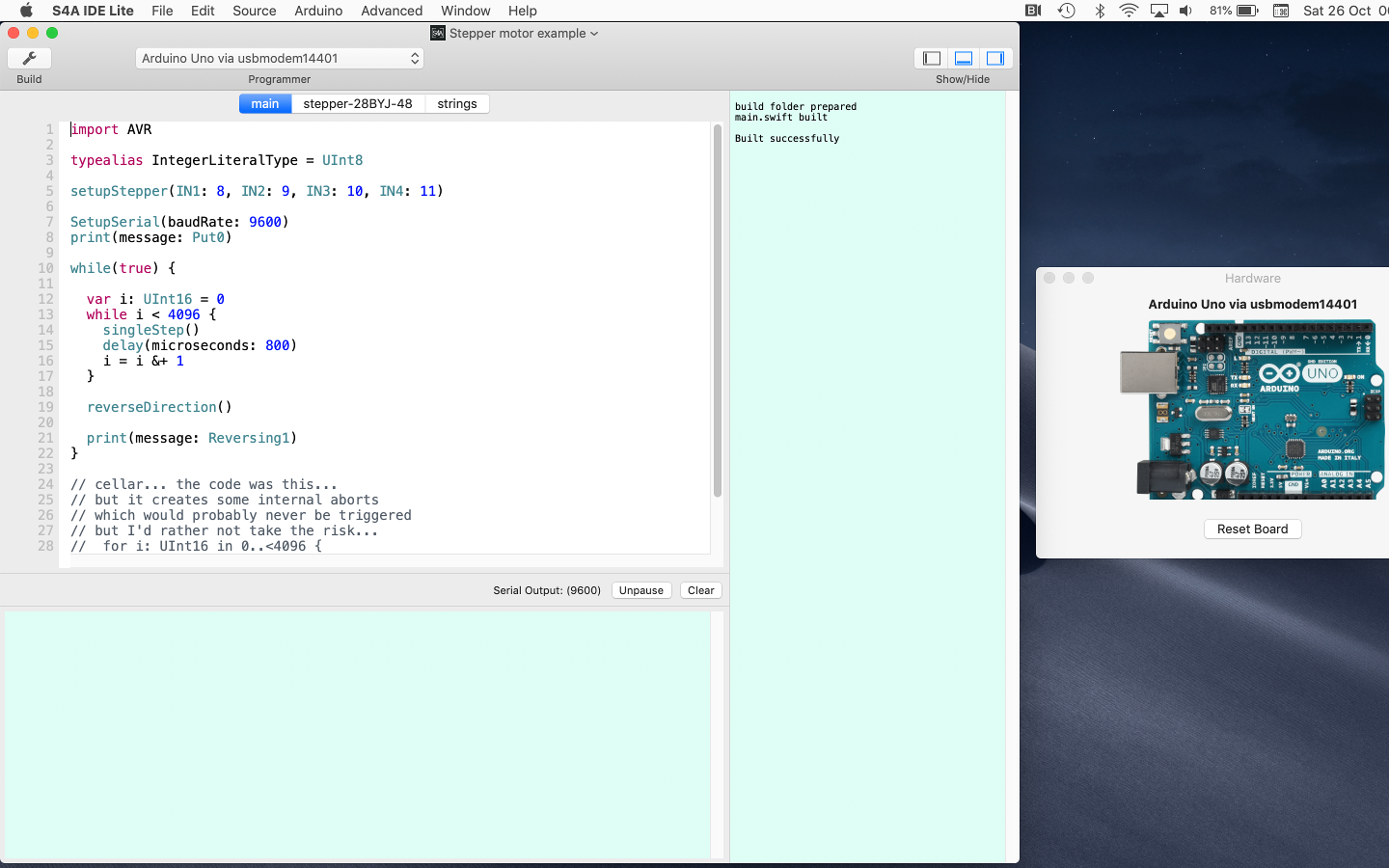 Break larger programs into multiple tabs.
❮
❯
---
Reviews:
Finally! ⭐⭐⭐⭐⭐

by Swanoop – Oct 31, 2019

I've been tinkering with Arduino for years and was always frustrated by having to revert to writing code in C / C and a clunky IDE. I am so happy that I can now create Arduino projects with robust tools in in a modern language.

The ability to use Swift is awesome, but the IDE is also worth note. It is a real Mac app and has modern features that make you more productive.

I'll be using this my personal projects, but also with kids to get them going quickly blinking LEDs and moving motors. I'm super excited to see how this product and community advances over time.

If you do anything with Arduino, just get this. You won't regret it.
What you will get...
A license for the revolutionary Swift for Arduino IDE for macOS, including the v1 Swift for AVR cross compiler and proprietary AVR-Swift library.
True, full featured native mac app with syntax highlighting, multiple tabs and many other modern features.
All upgrades for the IDE and v1 compiler and library are free forever and included in the price.
Unlimited free round the clock online personalised support to make sure you have no trouble learning this new platform.
Amazing projects ready to get started right out of the box. Get coding in minutes!
A thriving community on Slack where we all chat, exchange ideas and even contribute to the future direction of the product!
Core class library that allows standard functions. The compiler is built from the open source swift compiler and an experimental build of the open source LLVM project.
The IDE has smarts to try to search for potential issues, plus fully integrated build and upload and much more.
GitHub open source community site where people contribute library code written in Swift, automatically syncs to the IDE for ease of use.
---
---
What to find out a bit more first and see Swift for Arduino in action first? See Find Out More.
To see the https/secure version of this site, CLICK HERE (recommended).